Products review
This 45 Auto cartridge manufactured by Prvi Partizan represents a cost effective self-defense round. Loaded with a semi-jacketed hollow point bullet, this round is designed to expand on impact creating a larger wound cavity.
This ammo is brass-cased, Boxer-primed, non-corrosive, and loaded in reloadable casings.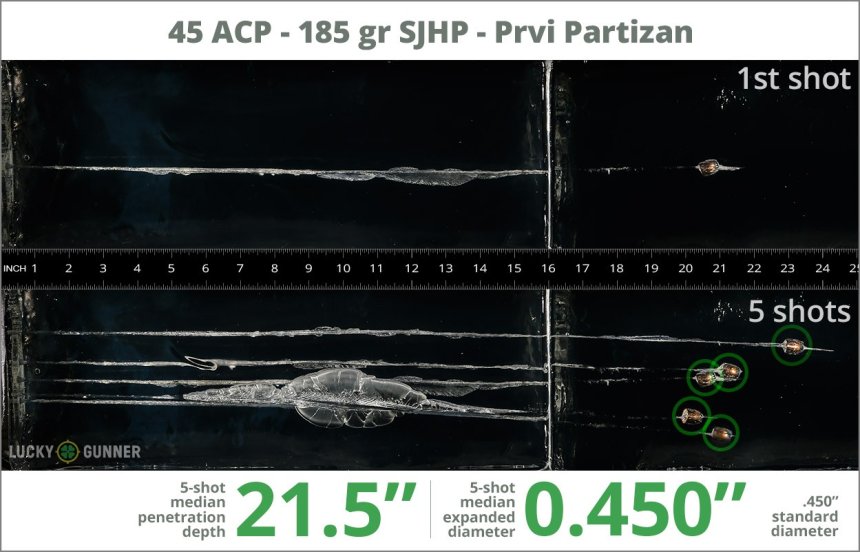 Ballistics Test Summary
We wanted to know exactly what happens to a self-defense handgun bullet on impact, so following FBI protocols, we fired five rounds of Prvi Partizan 185 grain 45 acp SJHP from 10 feet, through four layers of cloth (to simulate clothing), into synthetic ballistic gelatin. The photos below show the bullets recovered from the gelatin after being fired from a Kahr CW45 pistol. There's also a high speed video that shows the bullet impacting the gelatin block.
All the data we gathered pertaining to expansion and penetration of this load can be found in the chart below, and the diagrams at the bottom of the page show how it compares to other .45 ACP (Auto) self-defense loads from our tests.
In addition to the .45 ACP (Auto) Prvi Partizan 185 grain 45 acp  SJHP, we tested over 100 other self-defense loads, so check out Ammunition Array for the full story.
45 ACP – 185 gr SJHP – Prvi Partizan – 50 Rounds
Median
Bullet Depth (in.)
20.9
21.4
21.5
21.6
23.4
Expanded Diameter (in.)
0.45
0.45
0.45
0.45
0.45
Bullet Weight after shot (gr.)
184
184.4
184.5
184.6
185.2
Bullet Velocity (fps)
778
820
831
832
832
How do the results for this Prvi Partizan .45 ACP (Auto) compare to other 45 ACP Ammo?
1.04″This ammo: 0.45″ Min: 0.45″Median: 0.731″Max: 1.04″Expansion Diameter in .45 ACP (Auto) Caliber
.