308 Amo RIFLE Ammunition for Sale
308 Amo Win rifle is available for purchase. We sell both individual rounds of ammunition as well as bulk ammo in case quantities. All the ammunition featured on our website can be found in our warehouse in High Point, North Carolina, where it is awaiting shipment. We are unable to accommodate preorders or backorders of any kind.
We keep both hollow point and jacketed hollow point ammo in stock for use in duty and self-defense situations respectively. We carry bullets with V-MAX, polymer tips, and soft points for hunting big game, varmints, and small game respectively. In addition, we carry ammunition with a Lead Round Nose and a Full Metal Jacket FMJ for use in plinking, target practice, and range activities. The procedure of checking out with us is streamlined and risk-free. Our mission is to provide our customers with the greatest customer service, products, and packaging that we possibly can!
Winchester Super-X ammunition has developed a reputation as being hard hitting and reliable. This ammunition is loaded with Super-X Power-Points which feature a unique, exposed soft nose jacketed bullet design that delivers maximum energy on target. Strategically-placed notches around the jacket mouth improve upset and ensure uniform expansion for massive energy release. This ammunition is new production, non-corrosive, in boxer primed, reloadable brass cases.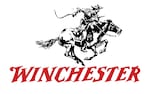 Made In United States of America